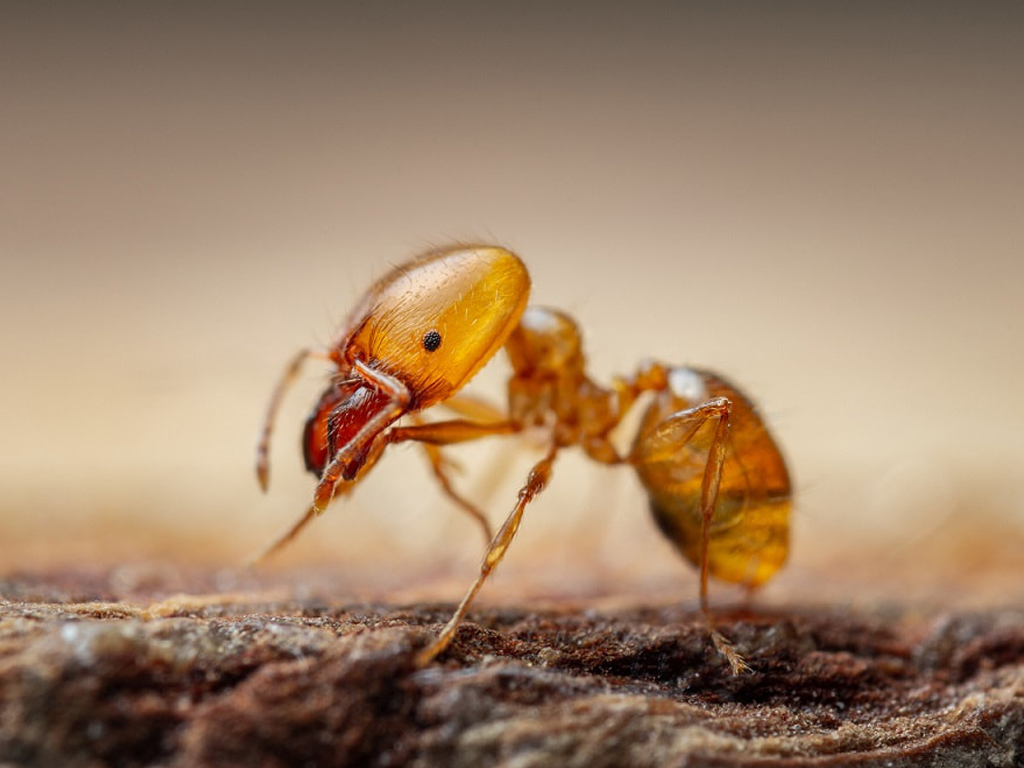 Pharaohs Ant
Monomorium pharaonis
Considerably smaller than the Garden Ant, being up to 2mm long, pale straw yellow with darker head and abdomen, large head, noticeable black eyes, twin bulge at double waist section, elbowed antennae. The Queens are 3 to 4mm long.
A trail making ant that can spread disease mechanically. Being a tropical insect the Pharaohs ant needs heated buildings to survive, will exploit drains, ductings,
cladded pipes and once established can spread quickly throughout any food manufacturing process with satellite nests. Often found in universities, hospitals, nurses homes and military camps.
Queens lay approx. 350 eggs, larvae hatch after 2 weeks and are fed by workers, after a number of larval skin changes pupation takes place. Full-grown ants hatch soon afterwards depending on temperature.
Colonies are 50,000 to 1,000, 000 strong with many queens, workers, and males.
Do not use any insecticide sprays or powders as this will disperse the colonies to other areas and multiply the problem.
Remove any alternative food sources from your rooms or store any foods in sealed containers.
Clean up any food and drink spillages in infested areas such as kitchens and store everything in sealed containers in the kitchen.
Clean any residue soap and toothpaste from the sink after washing as the Pharaoh's ants will feed from the protein in these products.
Report any Pharaoh's ant sightings to the site management so that bait stations can be installed in these areas.
OTHER PESTS THAT MIGHT BE RELATED TO THIS insect